Him-Methio
Him-Methio is a natural alternative to methionine, which is quickly absorbed in the body from the intestinal mucosa. Him-Methio is rich in the L-isomer of methionine that ensures its high bioavailability (the degree to which the substance is absorbed in the body). It also improves the feed conversion ratio (a measure of an animal's efficiency in converting food mass to body mass) and weight gain.
FEATURES
Manufactured from natural sources of food
High Bioavailability with natural L – isomeric form
Reabsorbed from Kidney – hence high assimilation
Releases least NH4 and CO2 into the environment.
ADVANTAGES
Him-Methio is wholly derived from natural sources
Actives are granulated- retains potency
Activity is comparable with any source of DLM
No residues of toxic chemicals
Table 1: Study of Him-Methio replacing DL-Methionine in broiler performance.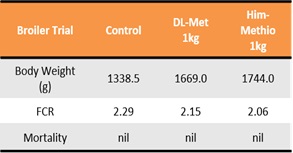 Table 2: Study of Him-Methio in breeder performance.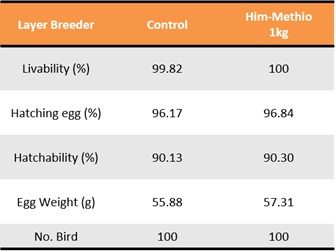 Dosages
Equal replacement of DL-Met at existing level in formulation.
Packaging : 10kg